Lyrics: Theme Song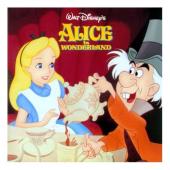 buy this album
Song: Theme Song
Released: 1951
Rating: 59.0 out of 100Please log in to rate this song.
Theme Song lyrics
Music: Sammy Fain
Lyrics: Bob Hilliard

Alice in Wonderland
How do you get to Wonderland
Over the hill or underland
Or just behind a tree

When clouds go rolling by
They roll away and leave the sky
Where is the land behind the eye
People cannot see

Where can you see
Where do the stars go
Where is the crescent moon
They must be somewhere in the sunny afternoon

Alice in Wonderland
Where is the path to Wonderland
Over the hill or here or there
I wonder where
Reviews Theme Song
No reviews yet! Be the first to make a contribution!