Lyrics: The Awakening (Alternative Version)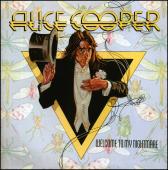 buy this album
Song: The Awakening (Alternative Version)
Released: 1975
Rating: 55.5 out of 100Please log in to rate this song.
The Awakening (Alternative Version) lyrics
I wake up in the bedroom
I'm so tired
I'm dry
I must be here sleepwalking
Mustn't I?

I have seen the dark and nameless sins
Visions of my life
Hunted by a thousand twisted things
Terrors of the night
Suddenly I realize
I see it all through real eyes
These images are all within my mind
And, oww, I'm safe and they`ll never find.... me...

[Vincent Price]
Silly little boy, he had to learn that we were not finished with him yet.
Bedrooms are only temporary sanctuaries from nightmares
Sweet dreams
Popularity The Awakening (Alternative Version)
Reviews The Awakening (Alternativ...
No reviews yet! Be the first to make a contribution!